Industrial/High Pressure Cleaning
Our Industrial service and cleaning department consists of several trucks. They include a variety of high pressure water jetters which are capable of 10,000 PSI, four vacuum trucks which operate at 27 inches of vacuum and, of the four, two of them are combination flusher/vacuum trucks. We also have two safety trucks capable of supporting all operations, from full-air confined space to roof top safety rails.

The high pressure water jet units in this department vary between large truck mounted units to small mobile units, that allow us to service any high pressure need. We have high pressure capabilities from 2,000 psi to 10,000 psi to open just about any sewer. Our high pressure units include cleaning implements that enable us to clean walls, tanks, concrete floors, roads, and almost any other surface.
The two vacuum trucks are new and able to provide up to 27 inches of vacuum in any area. One of our vacuum trucks is capable of blowing off a variety of materials for your needs.
The flusher/vacuum trucks have mobile reel attachments to utilize their capabilities in a limited access environment. These trucks can flush a pipe at 2,500 psi with 100 gallons per minute as well as vacuum the debris concurrently. Both of these trucks are able to use high pressure water and/or air with vacuum power to " Vacuum-Excavate."
---
For more information on our Flushing and High Pressure Equipment: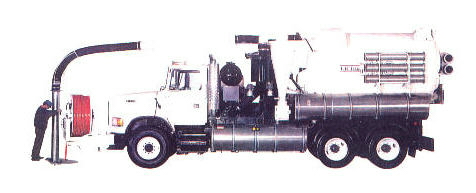 WNY High Pressure Cleaning | Western New York Vacuum Trucks | WNY Industrial High Pressure Trucks | High Pressure Cleaning Western NY |
WNY High Pressure Water Jetters | Western NY Vacuum Truck | WNY Industrial Vacuum Truck